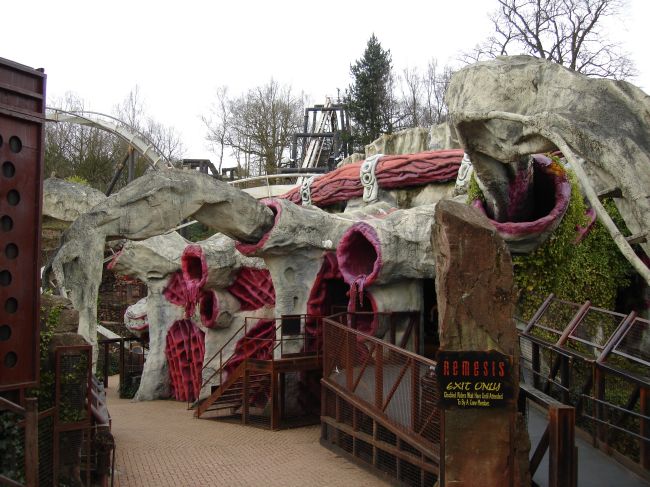 Just got back from a long day walking around Alton Towers for this years adrenaline week event. Crowds as expected were low and queues for the majority of the big attractions were at a minimum for most of the day. It was a boys outing today, no families or partners just rides, rides and a few more rides.
First up was spinball whizzer one of the parks lowest capacity rides, queues were about 30 minutes which was expected and the staff were only sending half of the cars round with 2 people in.
Over at hex this was walk on as it was the weekend earlier.
Charlie and the Chocolate factory had no queues either, i love this ride it just gives you 10 minutes to relax after all the walking around.
Nemesis was quiet for most of the day, the front row queue had a 3 train wait and for the couple of hours mid afternoon we spent in forbidden valley it was quite common to see some of the trains got round half empty.
Ripsaw was out for the day.
Air was running well most of the afternoon with similar queues to Nemesis
Duel was walk on straight into a car. such a shame they introduced those blasters, this is a fantastic ride, theres so many hidden gems for dark ride fans. By having a gun you miss most of it by concentrating on targets. ;-(
Rita had a steady 20-30 minute queue for most of the day, the ride was only running one train which probably caused the queues.
At first i didnt like Rita it was just a launch and then it was all over, but its growing on me some of the airtime is great.
Water Rides.
As you would expect for March the water rides were pretty quiet if not dead for most of the day, at one point i spent a couple of minutues looking at the log flume and every car over the final drop was empty.
Conclusion.
A great day out, fantastic ride count and great company. im looking forward to the next one.
If you want to use any photographs on this blog please get in touch paul@ridemad.com or via the contact form im quite happy to share and have high resolution copies of everything used, to see the complete gallery visit the Ridemad Gallery
Thanks for Reading.